A few weeks ago, two of my friends noted that I should consider making another version of a blog post I published more than a year ago. For reference, you may opt to click this link. Since life's occurring the way it does when I'm not traveling, I decided to take their suggestion seriously. There are far more important things to talk about but clearly, variety is the spice of blogging.
So without further ado, haha, here's What's On My Bag Version 2.0! Also known as, WOMB Graduate School Edition!
Here are the four, dare I say it, major elements of my bag: 1. Pouch where I keep most of the things I need for school from Powerbooks, 2. Aldo Wallet, 3. Personalized pouch for personal business affairs and 4. The everyday/regular school bag, a Michael Kors bag from my mother. I just have to mention how I think my mother, and most of the mothers I know, has an impeccable taste for bags. Is it a maternal thing?
I am not the most organized person in the world but I have practiced a system which lessens clutter in my bag. It's a rather simple trick where I categorize them according to use and put them all together in a pouch. I've tried bag organizers before, like this one, but I stopped just as soon as I realized how it didn't help in reducing eyesore.
Inside the pouches are: 5. 2013 Le Petit Prince Moleskine Pocket Weekly Planner, 6. Pilot G-Tec and Uni Pin Fine Line, 7. Faber Castell Text Lighter, 8. Corona Index Cards, 9. Rainbow Colored Index Marker, 10. Sandisk Flashdrive and 11. Schützen Notebooks. 
My friends can attest to how OC I am with my schedule because I don't really appreciate missing out on important events and deadlines. Also, I draft reports/papers weeks ahead of the presentation day which is why it's necessary for me to keep track of my activities. I've learned the hard way in the past, so when I could, I rid myself of the stress that comes with cramming.
I've been with Pilot G-tec and Uni Pin Fine Line, in point 3 and 4/5 respectively, for as long as I can remember. I have yet to explain the science behind having different penmanships using different pens. But, these pens produce the most tolerable scribbles for me. In the future, I dream of writing using fountain pens.
The reason why I have a whole pack of highlighters is that my readings beg for more attention and colors. I used to believe that it's annoying to use assorted hues when noting important parts of the text until I become highly exposed with materials from political science where there are five or more arguments for every heading. Thank you very much, I want to code properly. This link shall show you an example of how I do it.
Aside from overlooking appointments, I'm also annoyed by ugly notes. There's always a high chance that I'll look back at them so I put an effort in making them pretty. I use index cards in class and discussions because when I do, I get to avail liberty on writing and doodling to my heart's content. Then, when I have the time, I transfer the salient points in my notebooks.
A random fact though: I only used 8-pages of my notebook when I was in my senior year in college and still manage to graduate. Graduate school's more demanding, I doubt I can pull the same sorcery.
Also in my bag: 12. Current UP ID and former undergraduate ID (which goes with my keys), 13. Forever 21 Sunglasses, 14. Versace Cat Eye glasses (aka my graduation gift to myself, haha), 15. Versace Eyeglass Holder and 16. Aldo Wallet. 
What I like about this wallet is that it has room for a lot of things. Cards, coins, cash, etcetera etcetera. I keep my coins in a different pouch so that I may have room for my rosary. 
I'll be the first one to tell you that I'm not very religious, in fact I don't like talking about it so much. If anything else, I have faith and I like keeping it personal/private. I like having this rosary with me most of the time because it came from Bethlehem, which my cousin got when she volunteered for the United Nations in Syria. That and the narrative of the territorial disputes in the neighboring countries of Syria are all meaningful to me. ;)
Some more cute things worth sharing, yaay: 17. Ponytails, 18. Paper Clips which help me keep my readings intact, 19. Johnson's Baby Cologne in Powder Mist, 20. Quilted Magnets from Fullybooked and 21. strange looking bookmarks from Fullybooked. 
A footnote on my cologne, I might have mentioned before that there are only limited scents that I can tolerate. Some of these come from the men's section or more often than not, baby lines. Just recently, I renewed my vow for anything that smells like lavender. Anyway, because I have the tendency to apply cologne every half an hour or so, I stick with the cheaper brands that are able to deliver. My regular scent would have to be Baby Bench Colonia in Ice Mint but just this week, I have discovered love in the form of Johnson's Baby Cologne in Powder Mist.
Other regular items in my bag are: Hygienix ethyl alcohol (which can work as a cologne too, haha), water, comb, moisturizing lotion and mosquito repellant. I've been avoiding bringing my gadgets to school because most of our classes are conducted from late afternoon to night time and I don't want to put my security at risk.
I doubt that I've said anything much about pursuing a graduate degree in International Studies but I guess that's another story to tell. For now, let me leave you with just some notes about taking masters: 1. It has enabled me to understand the trends, policies and interplay of soft and hard power between and among states, 2. I am challenged and at the same time, trained to be more discerning and knowledgable about the events occurring in all three levels of analysis (personal, national and interstate) and 3. It has given me somehow a sense of direction, specifically, it opened a venue for me to appreciate a future career in international diplomacy or work with organizations in the realm of global policymaking.
It's an exciting time but let's focus on the now. I don't want to forego of my present in exchange of dealing so much about making it in the future, although I really can't help it.
hi! can you pleaaase do a 'whats in my bag' post? that would be interesting! :)
Anonymous
First of all, I'm sorry for this late post. I've been delaying answering this question for months already, but I hope this still makes sense. Second, this is one of the most surprising things I've had in my inbox yet. I never thought someone would be interested knowing the things I carry around! Haha! So here it is, a photo essay of sorts of the things inside my bag: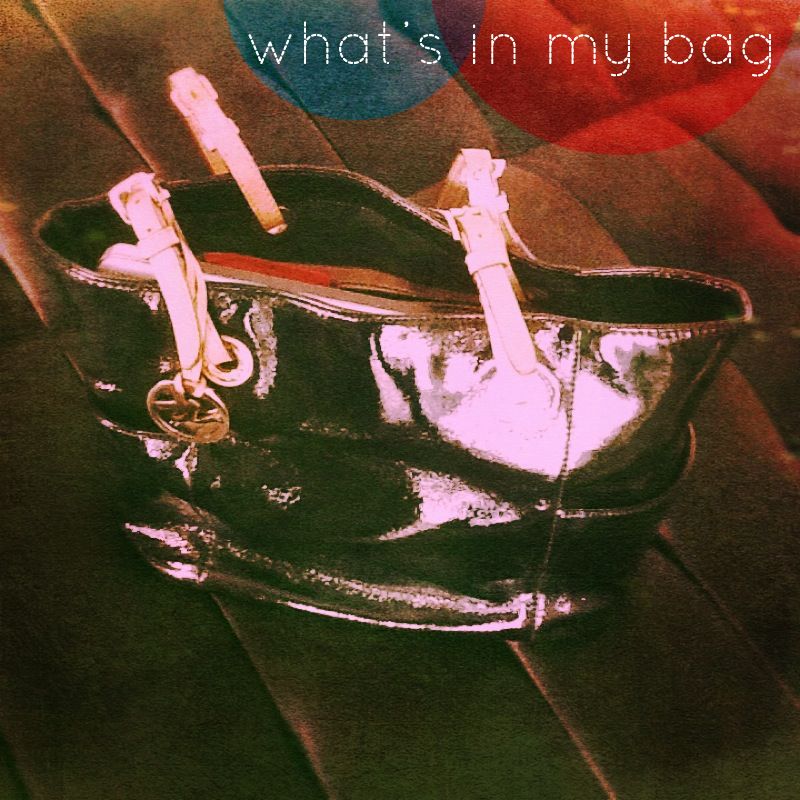 The obligatory bag photo. It's a Michael Kors bag given to me by my mother. To be honest, I'm not a big fan of bags. If not for my bag-aholic mother, I'd probably still be toting my old Guess bag which I've had since I was in high school.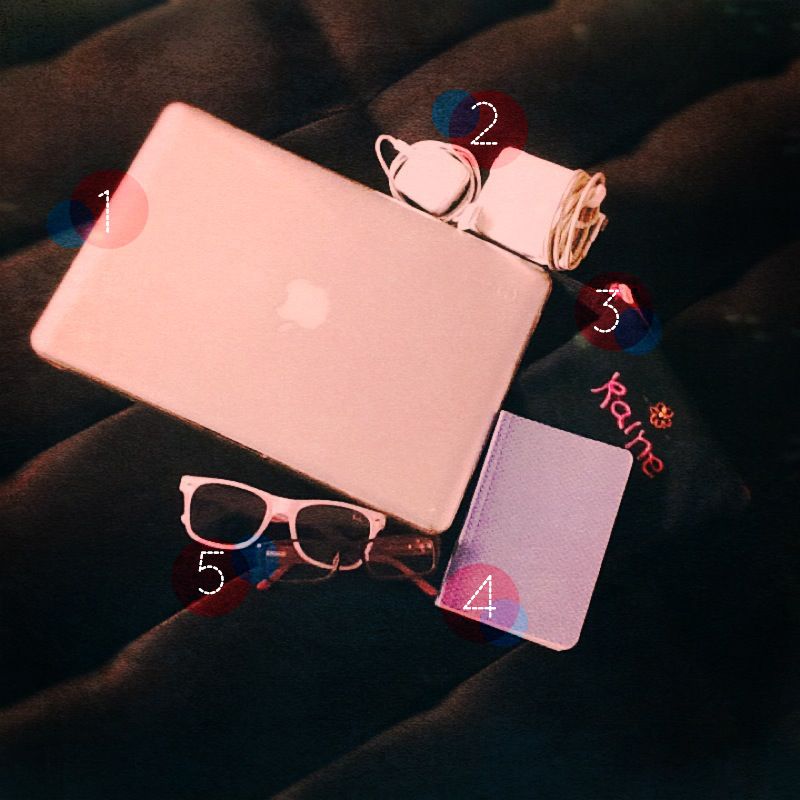 Now the contents:
1. Macbook, but only because I'm an office girl this summer. On regular days (by that I mean school days), I only bring my iPad with me.
2. Chargers for really obvious reasons.
3. Customized bag which contains my journal, pens and highlighters. It's a gift from a friend and I've never stopped using it since Day 1 of acquisition.
4. My writing notebook, of course.
5. Glasses for my poor eyesight and for vanity's sake.
Now, the things I was hesitant to include but later on realized how necessary they are in making my life easier:
6. Alcohol, and I urge all people to carry one for their own everyday. Thank you!
7. Cologne of the moment, because I'm not the kind of person who sticks with a single scent.
8. Eye drop because there are times when my eyes just itch like crazy and I'm afraid to rub it because it might cause permanent harm.
9. Ortho wax for the metal mouth me. Yes, I'm at the peak of young adulthood awkwardness— with glasses, braces and all that stuff. Excuse me for being a work in progress, haha.
Now the most essential things in my bag. I'll go nuts if I leave one of these things behind, seriously seriously:
10. My dormitory key. I used to bring a lot of keys with me all connected by the keychains my friends have given me as travel gifts, but I lost them all just recently. Hoho :(
11. My journal, which is safely kept in that customized pouch above.
12. Then there's my wallet.
13. And my rosary from Bethlehem which my cousin gave to me after serving the United Nations something something program in Syria. I can't quite explain what she did but suffice it to say that she was part of the Philippine's armed forces team to the Middle East as an aide or something of sorts. Such a bad cousin am I! Haha. I keep it in a nifty pocket my best friend gave me as a pasalubong when he went to Palawan.
Here's how all the mess look in my bag. See that asterisked thing in the photo? That's actually a canister of toothpick which saves my metal mouth self from disgrace. My other life savers (wet and dry tissue, water bottle, cellphone, etc.) are not included because I want to leave something for your imagination. Haha!
My laptop's a real bitch to bring around. You can only imagine what kind of physical torture I have to put up with every time I have to bring it in the office, or at school. But on another note, life's less convenient without it by my working side so I'm grateful I have it with me.
There! :) Just a little FYI: All the photos were taken using Instagram (A really shameless plug: My username's soveraine, follow me!) and then edited with CameraBag and CS5. I hope you enjoyed this self-deprecating post!